"One of a kind shoes made in a sustainable manner"
Welcome ! Please browse through my portfolio of shoes and boots - styled with a strong retro feel.
I have been shoe-making since the 1980's and offer a bespoke service - tailoring shoes for men and women - using highest quality components, individually handcut and moulded to suit each client, allowing for a longlasting, repairable product.
I also have a small range of bags and belts which I make to order.
The perfect Gift . . .


shoes made to fit both your feet
and your individuality
shoe news @ "the shoemakers shed"

facebook page


'bespoke'
enduring style - made from hand selected components - intrinsic comfort of natural materials
individuality - Did you have a dream and that dream was a pair of shoes?
custom fit - because feet are all devilishly different in shape and size.
sustainability - a product that can be repaired - creating less waste for the planet!
"made on waiheke island"
"The last will be first"
a motto learnt from John Lobb Bootmakers, I spent time as an intern in their lastmaking department, whilst studying at Cordwainers College, London 1993.
Feel like crafting ? Sign up for some classes in shoe making - while you take in and explore the beautiful environs of Waiheke Island

Visa Mastercard and Paypal options available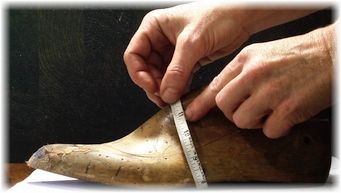 A last that suits your foot shape will lend to shoe styles that look best and feel delightful.