A last that suits your foot shape will lend to shoe styles that look best and feel delightful.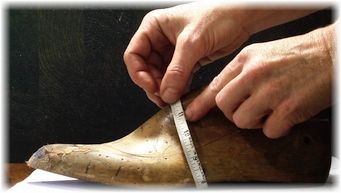 'bespoke'
enduring style - made from hand selected components - intrinsic comfort of natural materials
individuality - Did you have a dream and that dream was a pair of shoes?
custom fit - because feet are all devilishly different in shape and size.
sustainability - a product that can be repaired - creating less waste for the planet!
soft tanned uppers - breathable leather linings
molded to each individual last shape
built with quality leather soles and stacked heels
gumlite vibram rubber soles with bounce
"made on waiheke island"
"The last will be first"
a motto learnt from John Lobb Bootmakers, as I spent time as an intern in their lastmaking department, whilst studying at Cordwainers College, London.
---
ORDERS USUALLY have a turnaround time of about 8 to 10 weeks. 'Standard' sizes and some wider fittings can be catered for by mail.
PRICE GUIDE - see my contact page.

'Difficult' to fit and special sizes are best arranged by consultation in person followed by a couple of fittings. To get in touch please see my contact page.
---

CREDIT CARD facilities available. also through PAY PAL
---
Shoe care products available , some to order
Repairs done on all my own work & on some good leather shoes on request.
Stretching & general leather maintenance service
---
Mailing List
To get a newsletter every so often with stuff about workshops and what's going on in my studio, please send me your name and email address to:
studio@sue-engels.co.nz