My look is funky retro, with a contemporary twist. Classic styling with considered lines, complimenting contours of the figure.

Solid brass buttons, chromed buckles, brogue detail, boot hooks and leather stacked heels are part of my hallmark style.
The perfect Birthday gift . . .
if you would like to gift someone special a pair of custom made shoes or boots, send me an email with details and you can start them off with a deposit on an order or arrange for full payment thereof.
Mailing List
If you would like to keep in contact, please send me your name and email address to:
studio@sue-engels.co.nz
and I will add you to my mailing list.

Presently the turn around time
is around 8-12 weeks from confirmation of an order.

Paypal facilities and direct deposit payment options.

'Standard' sizes and some wider fittings can be catered for by mail. See my contact page.

'Difficult' and special sizes need to be arranged by consultation in person followed by fittings.

Introductory Shoemaking Courses
I offer one on one tuition by means of introductory shoe making courses. If you are interested in taking part, please send me your contact details and I will mail you some course outlines with the next available dates.

facebook page



Hi & welcome !
Here is a showcase of a range of BESPOKE FOOTWEAR created in my'shoe shed', a studio located on Waiheke Island, Auckland, NZ.
My set up is small and each pair of shoes is individually handmade to order. I use traditional methods of shoe-making, from an age when craftmanship was valued. This process imbues my work with individuality, enduring style and comfort.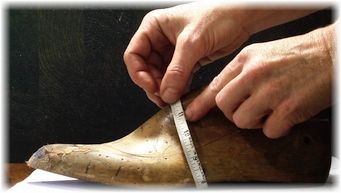 'The last will be first' - something I learned during my time spent with last makers at John Lobb Bootmakers of London.
A 'last' is the form that a shoe is made on. My last collections define the shape and fit of my shoes and their style. A last that suits your foot shape will lend to shoe styles that look best and feel delightful on your foot.
The selected last is adjusted to fit the contours of your foot, the boot or shoe designed, cut and made into the best suited pair for you ...
oh yes, 'bespoke' is all about individuality and that is what I like about what I do.
Skill and care is taken to cut and sew together soft, calf leather uppers and full, breathable leather linings.


Rich blends of colour, enhanced with contrasting inlays and bindings.

Molded to each individual's carved last shape.
Built with quality leather soles and stacked heels.
AN ENVIRONMENTALLY CONSCIOUS CHOICE

'shoe miles' only begin when you start wearing your shoes, as they've not travelled a quarter or more of the planet to get to you

they're longer lasting (with adequate care) and individual components such as soles can be replaced if necessary - reducing waste in our landfills.

made almost entirely from renewable resources and locally sourced where possible.