The perfect Gift . . .

A last that suits your foot shape will lend to shoe styles that look best and feel delightful.
---
CREDIT CARD facilities available. also through PAY PAL
ORDERS USUALLY TAKE AROUND 8 to 10 weeks from confirmation by means of deposit.
'Standard' sizes and some wider fittings can be catered for by mail.
'Difficult' to fit and special sizes are usually arranged by consultation in person followed by a couple of fittings. To get in touch please see my contact page.
Mailing List
To get a newsletter every so often with stuff about workshops and what's going on in my studio, please send me your name and email address to:
studio@sue-engels.co.nz
---
Shoemaking Courses
For the last ten years I have enjoyed putting away my bespoke apron and sharing some craft time in my small but fully equipped studio where you can learn the fundamentals of the art of shoemaking.
Have a holiday on Waiheke and create a pair of shoes
A choice of options:
6 day introductory course: shoe design & making
OR spend a fun weekend making a pair of sandals (some design included)
ALSO half day sessions of individualised tuition patterns * clicking* closing * last adjusting * heels
If you are interested in doing any of these, send me your contact details to receive a course outline.
Spaces are limited + advanced bookings required

facebook page



Hi & welcome !
Here is a showcase from my portfolio of bespoke works. These are created in my studio located on Waiheke Island, Auckland. In addition to footwear, I also make a small range of bags and belts.
The set up is small and each pair of shoes is individually handmade to order, using traditional methods of shoe-making, from an age when craftmanship was valued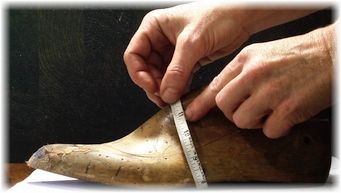 when shoes were made to fit both your feet and your individuality
'bespoke'
enduring style - made from hand selected dependable components - that's good for you and good for the environment.
individuality - Did you have a dream and that dream was a pair of shoes?
custom fit - because feet are all devilishly different in shape and size.
Skill and care is taken to cut and sew together
soft, calf leather uppers and breathable leather linings.

with rich blends of colour,
enhanced with contrasting inlays, bindings
and perforations.

Molded to each individual last shape.
"The last will be first"
a motto learnt from John Lobb Bootmakers as I spent time in their lastmaking department while studying in London at Cordwainers College.
Built with quality leather soles and stacked heels.